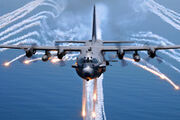 AC-130H Spectre
The AC-130H Spectre gunship's primary missions are close air support, air interdiction and armed reconnaissance. Other missions include perimeter and point defense, escort, landing, drop and extraction zone support, forward air control, limited command and control, and combat search and rescue.
These heavily armed aircraft incorporate side-firing weapons integrated with sophisticated sensor, navigation and fire control systems to provide surgical firepower or area saturation during extended periods, at night and in adverse weather.
During Vietnam, gunships destroyed more than 10,000 trucks and were credited with many life-saving close air support missions. AC-130s suppressed enemy air defense systems and attacked ground forces during Operation Urgent Fury in Grenada. This enabled the successful assault of Point Salines airfield via airdrop and airland of friendly forces.
AC-130U Spooky
Continuing the distinguished combat history of side-firing AC-130 gunships, the new AC-130U Spectre gunship is being fielded as a replacement for the AC-130A aircraft. This program acquires 13 new basic C-130H aircraft for modification and integration by Boeing to the AC-130U Gunship configuration. The AC-130U gunship airframe is integrated with an armor protection system (APS), high resolution sensors (All Light Level Television (ALLTV), infrared detection set (IDS) and strike radar), avionics and EW systems, a sophisticated software controlled fire control system, and an armament suite consisting of side-firing, trainable 25mm, 40mm, and 105mm guns. The strike radar provides the first gunship capability for all weather/night target acquisition and strike.
The acquisition program for this new gunship evolved from a Congressional mandate in the mid-1980s to revitalize the special operations force capabilties. Following the contract award to Rockwell in July 1987, the aircraft was first flown on 20 December 1990. FY92 procurement funding was increased to provide the 13th aircraft to replace the AC-130H lost during Desert Storm. Upon completing an exhaustive flight test program at Air Force Flight Test Center from 1991 to 1994 the first aircraft was delivered to AFSOC on July 1, 1994. Boeing's contract includes: concurrent development, aircraft production, flight test, and delivery. All aircraft have been delivered and the program is transitioning to the sustainment phase. A competitive contract for sustainment was awarded in July 1998.
300px|left|AC130 Gunship takes out Taliban fighters and various terrorists at Afghanistan.