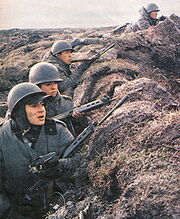 The Falklands War(also called the Falklands Conflict/Crisis), was fought in 1982 between Argentina and the United Kingdom (UK) over the disputed Falkland Islands, South Georgia and the South Sandwich Islands. The Falkland Islands consist of two large and many small islands in the South Atlantic Ocean east of Argentina; their name and sovereignty over them have long been disputed.
The Falklands War started on Friday, 2 April 1982 with the Argentine invasion and occupation of the Falkland Islands and South Georgia, and ended with the Argentine surrender on 14 June 1982. The war lasted 74 days, and resulted in the deaths of 255 British and 649 Argentine soldiers, sailors, and airmen, and three civilian Falklanders. It is the most recent conflict to be fought by the UK without any allied states and the only external Argentine war since the 1880s.
In this war, British and Argentine forces both used the FN FAL, an extremely rare occurence.